Is This Beaten-Down Sector Beginning To Make A Comeback?
We are more than three weeks into 2023. And so far, the award for the best-performing stock in the S&P 500 (so far) goes to Warner Bros. Discovery (Nasdaq: WBD) — up a whopping 37% on the year.
It's followed closely by a plethora of airline and cruise ship stocks. United Airlines (Nasdaq: UAL) is up 31%. Then there's Carnival (NYSE: CCL), which is off to a 30% start to the year. Rounding out the top four is American Airlines (Nasdaq: AAL), at 28.5%.
In the top 10, you'll find a familiar name (and sector) that was on a bit of a sabbatical the last year and a half: Nvidia (Nasdaq: NVDA) — up 22% on the year.
If you've been following the markets at all, then you know that 2022 wasn't kind to tech stocks. It was nearly comical how much many of these stocks fell last year. Although, it probably wasn't comical for those investors who held onto "hope" and didn't cut their losses.
But that's neither here nor there.
The point is that, as I explained to my premium Maximum Profit readers, tech stocks are back…
Okay, I'm probably getting ahead of myself and jumping the gun a bit here. We don't know for sure yet — but the evidence is mounting. Allow me to explain…
Is This The Beginning Of A Tech Comeback?
First, I want you to take a look at the Ark Innovation ETF (ARKK). If you followed the rise of Cathie Wood during the pandemic, then you know her flagship fund is a collection of the once-hottest tech names in the market. This former poster child — quickly turned whipping boy — for Wall Street is up 18% to start the year as of this writing. That outpaces the S&P 500 and the tech-heavy Nasdaq:
That's the good news. The bad news is that it's still down 75% over the last two years… ouch. Of course, this could be the start of a new bull trend. But over at Maximum Profit, we aren't in the game of making predictions.
As a momentum service, we don't want to be the first one to the party. And we sure as heck don't want to be the last ones to leave. We want to show up fashionably late (i.e., when momentum is strong) and leave when the party starts to die out.
But I brought up the technology angle to my readers because, much like I was surprised to see Nvidia sneak into the top 10 in terms of performance, I was shocked when this week my system flagged two technology stocks as "Buys" last week.
I was even more flabbergasted when I realized that nobody told these two technology stocks that they weren't supposed to be coming off great years. That's right, while ARKK lost roughly 67% of its value in 2022, Pick No. 1 gained 22%. And Pick No. 2 shot up 35% last year.
I need not remind you that the overall market, as measured by the S&P 500, collapsed 19% last year. But both stocks are looking to build off that momentum — and we are planning to ride that wave higher.
Closing Thoughts
I'm not going to share the names of these picks with you today out of fairness to my premium readers. But just know that we're starting to see some encouraging signs from the tech sector. It may be too early to know for sure if this is a bona fide comeback, but rest assured, I will be keeping close tabs.
In the meantime, over at my Capital Wealth Letter service, we just released our annual predictions for 2023 (and beyond). And what we uncovered may shock you…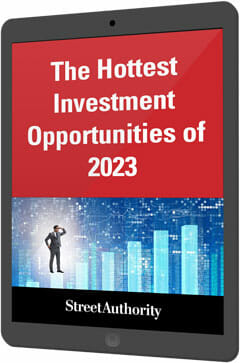 Here is a taste of the predictions you'll find in this year's report:
We predict the U.S. dollar will weaken in 2023, causing emerging markets to soar… It's a reversal of last year. Last time we saw this setup, emerging markets jumped 79%.


The world's first cancer vaccine will be developed — and we know how to profit. The team behind this lifesaver will be able to name their price…


A big prediction about the future of the U.S. EV industry…


Driverless 18-wheeler trucks will hit the highways in 2023. (We have a handful of ways to profit from this one…)


Psychedelic "magic mushroom" stocks will blow investors' minds. I know it sounds crazy, but when you read how they treat depression… addiction… PTSD and more, you'll see how these companies are about to hit paydirt.


And more…
All we have to do is be in early on a couple of ideas before the rest of the crowd to make some truly spectacular returns. To learn more about my latest investment predictions for 2023, go here now.